Complete Pest Management In Fernley, Nevada
The city of Fernley, NV, is a growing community that offers residents a true western feel, and all the small-town charm you could ask for. With a rich history in agriculture and ranching, Fernley is a great place to lay down roots, and no one agrees more than the local pest populations. Pest activity presents a year-round threat for Fernley home owners, and that can cause a lot of problems for you and everyone on your property.

The best protection you can get is from the pest professionals, and the team at Natura Pest Control is here to help. We're proud to be the natural leader in effective pest control for homes throughout Lyon County, and the surrounding areas. We are your go-to source for extensive residential pest solutions, and we work hard to bring you effective, lasting, and hassle-free pest services that you can trust all year long. Call us today for your free quote and inspection.
Home Pest Control In Fernley, NV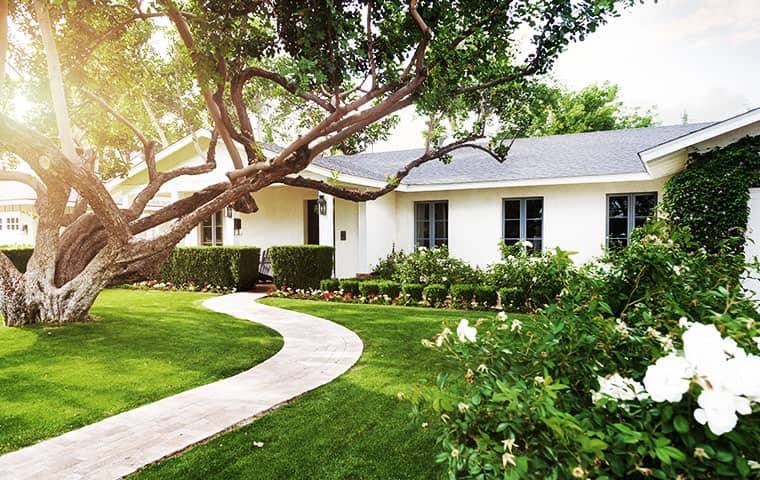 Here at Natura Pest Control, our residential pest solutions currently service over 8,500 local homes in the area. Our experienced service technicians provide complete coverage from household pest infestation.
We deal with a long list of common area pests, such as ants, stinging insects, earwigs, flies, cockroaches, rodents, spiders, box elder beetles, bed bugs, and termites. Our team is proud to offer organic hybrid services, and IPM (Integrated Pest Management) strategies to tackle your pest issue in a way you can feel good about.

Whatever pest pressure you're facing, you don't have to face it alone. Our customer-focused team offers an unlimited service subscription at a low monthly rate, bringing you customized pest solutions and ongoing follow-up visits at your convenience.
We use liquid products, granules, baits, and many other treatments to deal with the problem, covering both the interior and exterior to give you all-around pest protection you can trust.
Do You Have A Problem With Earwigs In Your Fernley Home?
There are 20 different species of earwigs in the U.S. alone. Before you can tell whether or not you have earwigs in your home, it's a good idea to know what they look like. Earwigs have flat bodies with two appendages that stick out of their abdomen. They also have wings, but they don't really fly. They are usually black or brown in color. These intruders are attracted to humid places that are dark and damp. They usually find harborage under rocks, piles of decaying matter or debris, and bags of dirt or fertilizer. They can also be found under rugs, potted plants, and inside stacks of newspapers.
The truth is it's hard to know if you have earwigs in your home unless you see them. The best way to detect and deal with earwigs is to call in pest professionals. Only a team of experts can give you the effective protection you, and your loved ones, deserve. Reach out to Natura Pest Control for all of your earwig control and prevention needs. We're here to help.
How To Kill Cockroaches In Fernley, NV
There are about 69 recognized species of cockroaches in the United States alone, and they're certainly prevalent here in Nevada. These unsanitary intruders are eager to access food, water, and shelter throughout your property, so in order to deal with cockroaches, you must cut off these sources and minimize all attractants. If you want to protect your property from cockroaches, be sure to seal off open bags of food, and clean up messes right away. Also, be sure to eliminate excess moisture around the property. If you do discover cockroach activity, and you want to take immediate action, there are a few things you can try.
You can put out cockroach baits, which the roaches take back to their nests and spread throughout their colonies. You can also try using a boric acid solution to dehydrate cockroaches. Additionally, there are roach-killing insecticide sprays that you can use around the perimeter of your property. While these tips can steer you in the right direction, the only guaranteed way to kill and prevent cockroaches on your property is to call in the pros. Call Natura Pest Control for all of your cockroach control and prevention needs.
How Did These Ants Get Into My Fernley, Nevada Home?
Property owners in Fernley know that ants are some of the most widespread pests in the Nevada area. Hot summers, dry weather, and otherwise pest-friendly winters make our area the perfect place for a hostile takeover. There are several aggressive types of ant species in our area, including:
Fire Ants
Carpenter Ants
Pavement Ants
Not all ants have the ability to harm or attack human beings, but they can create destruction in other ways. Fire ants bite or sting with a type of pain that may require hospitalization to treat. Carpenter ants are wood-boring insects that drill through trees, 2x4s, and walls to build homes for their young. Finally, pavement ants mound nests around driveways, sidewalks, and outdoor patios, infiltrating homes and contaminating food items. Ants may have gained access to your home in one of three ways:
1. Via transportation on a potted plant, accessory, or another item.

2. Through an entry point around your doors, windows, or foundation.

3. By following the scent of garbage or food towards the home.
Protect yourself and your household with comprehensive ant treatments from Natura Pest Control.
Five Spider Prevention Tricks For Fernley, NV Residents
Hundreds of spider species live and thrive in the Fernley area, all of which are less-than-appreciated guests for home owners. Spiders rarely choose to live indoors rather than in their normal hunting grounds, but there may be some factors that are driving them closer to your home. For one thing, spiders are attracted to high volumes of pests in one area, especially if they are concentrated indoors. For another, your home may have just the right amount of pests to keep spider species happy and healthy for years to come. Prevent spiders from encroaching on your Fernley property by following these five tried and true arachnid prevention tricks:
1. Sweep spider webs away from windows, corners, eaves, or low-hanging areas around the house.

2. Practice good general pest prevention, including food storage and management.

3. Deep clean the home often to discourage pests from settling down long-term.

4. Lower the amount of humidity present inside the home with a dehumidifier.

5.Have your home professionally inspected for signs of spider activity with Natura Pest Control.
Call today to book a residential spider inspection at your convenience.
How To Spot And Stop Flea Infestations In Fernley, NV
Whether or not you own an indoor or outdoor pet, you have likely experienced the effects of fleas at one time or another. Fleas are unable to be seen by the naked eye alone and are often dangerous to the pets and people they come in contact with. Spotting the initial symptoms of a flea infestation will look different between pets and their owners. If your dog or cat has contracted an issue with fleas, you will begin to notice:
Flea 'dirt' (pest droppings) around the pet's skin and in their fur
Areas of patchy fur or poor growth
Lumps or bumps that your pet continuously scratches
The symptoms of fleas attacking people vary slightly from their pet's behaviors. Expect to see:
Small rashes or patches of red bites
Bites with light pink 'halos' around the punctures
Bacterial infections from scratching
Biting pests such as fleas begin their infestations in secret and can take over within a matter of months. To protect your home and family from their effects, good prevention steps will be necessary.
Natura Pest Control has everything you need to implement flea control and treatments around your Fernley home. Call us today to get started.
Request A Free Consult Today
Complete the form below to receive more information about any of our plans or services. A member of our team will be in touch within 48 hours.